Encript your SmartWeb store with SSL. Price 1270,- SEK/year.

Get more trust from your customers and Google by encrypting your webshop with this SSL-module. The module builds on SSL (Secure Sockets Layer) encryption technology, best known as the green padlock that appears when you enter an encrypted page.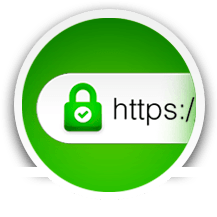 The benefits from SSL are:
Build trust amongst your customers with the green padlock
Boost your conversion rate due to customers feeling 100 % secure
Higher PageRank on Google, because Google uses SSL as a ranking parameter
Avoid Google Shopping suspension now that Google Shopping policy requires SSL encryption
Increase your online security and get ready for tomorrow
The checkout is already encrypted
Traditionally SSL has been used in the checkout process to protect the customer's personal information. This means your webshop transactions are already secure, but with this new module, everything will be secure including pages, content and data.
Get started
Get SSL the SmartWeb administration in two steps.
Go to "Subscribtion > Modules"
Go down to "SSL certificate" and click "Purchase"
The price is 1270,- SEK/year (pr. domain)
We are happy to help, if you have further questions.
Tel: +45 43 33 17 93
E-mail: support@smartweb.dk